Britain Arise is a team of praying believers with the passion to labour for the due UK Revival. We are called to prophetically align Great Britain to her divine mandate in God's Vision. Consequently, we stand as a voice with a prophetic mandate to declare the sovereign move of God across this nation, through the Baptism of the Spirit.
The outpouring, which is expected to cause the sovereign move of God throughout the UK, will subsequently bring restoration and a true Christian practice back to Great Britain.  Great Britain will rise again with the world's dominant power, however, not without God.
This revival is destined to bring in the supernatural move of God to this nation securing: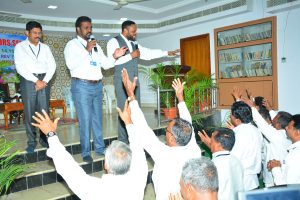 Healing for the many that are sick across the country.   
Empowerment for potential leaders.
Restoration for the vulnerable and the helpless.
Salvation for the lost.
About the Britain Arise Founder Pastor Sam Adetona
Pastor Sam Adetona is an anointed man of God who is called to the ministry of healing.
He has a strong prophetic voice among other gifts that God has endowed upon him. Since his early days in ministry Benny Hinn, Charles Finney, John G. Lake were among his mentors.
Missions
Pastor Sam has been in Church ministry for nearly 20 years and has gradually moved through the ranks and his story is full of miracles. Once he realised his vision of the Church wasn't aligned to his Church community back in 2000, Pastor Sam began doing missions in far flung places. In February 2007, it was on the front line during one of his mission trips that he first discovered a massive revival while visiting Liberia.
He was overawed with what God was doing to the extent he revisited Liberia several times until February 2011.
Education
Pastor Sam went to University in 2012 to study Leadership and he graduated with his first degree and then completed his MBA in Creative Leadership and Management. Soon after graduating in 2015 he was invited to guest speak at a college seminar in New York and his life changed during that trip.
God instructed him to return to Mission ministry and to focus on revival. He says, "I was afraid of hell for the first time and not doing what God called me to do."
Healing and Prophetic Ministry
Henceforth Pastor Sam gathered a small group of leaders and began doing night vigils every Friday in London England. Through the power of God he began supernaturally healing men and women from physical and spiritual ailments like blindness, paralysis, deaf hearing, depression, loneliness, suicidal thoughts, stroke etc. Amazingly everyone he has helped by the power of God to receive healing is completely free of illness and pain today.
Pastor Sam has pastored Harvest Mission Outreach in London Brixton with his wife for the past 10 years.
Join the next Britain Arise Conference
Today he is the founder of Britain Arise Conference; a monthly event in the heart of Great Britain at Westminster, London which is streamed live worldwide.
Britain Arise is a high profile function held in London Westminster that specifically reaches out to people who need physical and spiritual healing. Pastors and ministers from across the country attend and countless testimonies have emerged from the event which is another sign that God's supernatural power is alive.
What makes Britain Arise Conference so worthwhile is God's presence is palpable at his events. God has proven He can restore men and women back to new instantly as if the affliction never happened.