BOOK YOUR SEAT: Saturday, 24th November 2018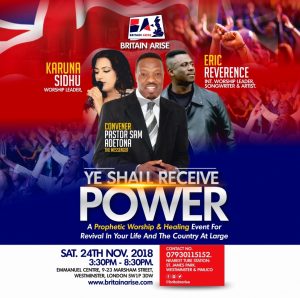 The next life changing Britain Arise event will be on Saturday, 24th November, 2018. Everyone welcome to join us from 3:30pm at the Emmanuel Centre, 9-23 Marsham Street, London SW1P 3DW.
Are you facing a situation that you can't seem to find the solution for? Are you seeking answers to problems that you can't seem to shift? If you need to hear a Word from God about your life this is the perfect event for you. The Messenger, Sam Adetona, will be sharing prophetically God's word for not only your life, but words relevant for the whole of the UK.